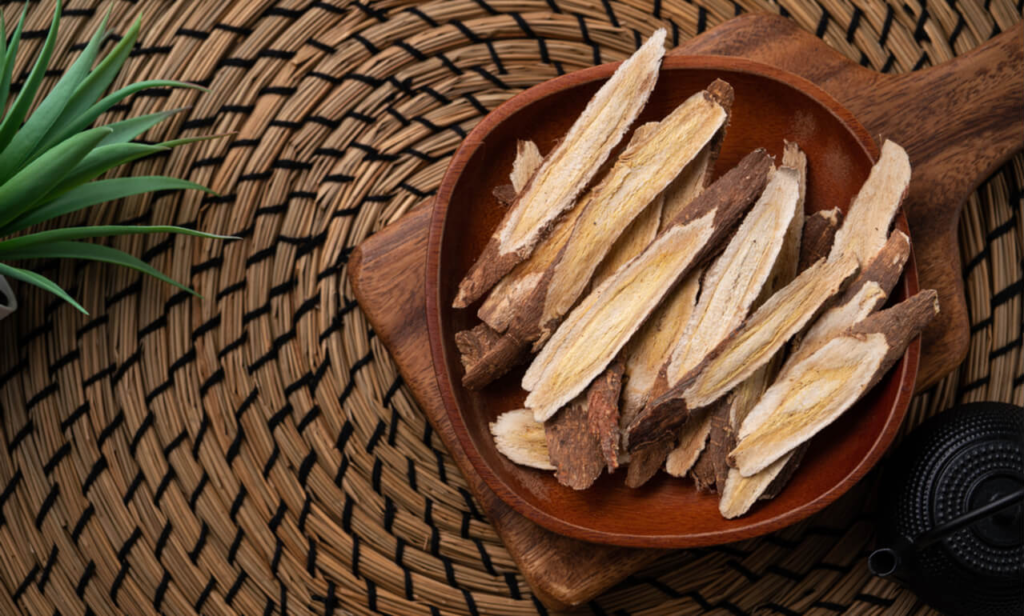 A woman came to see me this week complaining of pain and discomfort in her intestines. After struggling with an internal hemorrhoid for years, her condition had recently advanced to a rectal prolapse and she was hoping to reverse the problem, if possible. "Can you help me?" she asked.
Weeks before that, another woman came to see me with vaginal prolapse. "It doesn't really hurt," she explained. "I just have this dragging sensation and then I notice that it has fallen out and I have to push it back in. It's annoying and uncomfortable. Do you have anything that will help me?"
The answer in both cases, is a resounding "Yes!" There is an herb that will help! It's one of my favourite herbs, and it's called astragalus root, also known as huang qi, or "yellow leader".
Astragalus root is usually cut in long, flat pieces that look very much like the tongue depressor in your doctor's office. It's a yellowish, woody root that you can break apart fairly easily with your hands. It has invigorating properties, and somehow, you can smell that when you hold it up to your nose. It's difficult to describe, but you can almost feel the potency of its energy when you hold it in your hand.
I've used astragalus root for years. Nothing gives me a greater pick-me-up when I'm feeling run-down. It's a qi tonic, meaning that it will give you energy, but astragalus's benefits don't stop there. Astragalus gives you so much more.
It strengthens your immune system, making you less likely to become sick over the winter months [1]. In China, it is very common to add a stick of astragalus root to your soup as it simmers on the stove, as it will energize the soup and also make it easier to assimilate.
Astragalus also helps to heal chronic, weeping wounds and sores by facilitating the discharge of pus and generating new flesh [2]. It reduces edema [3]. It is commonly given to cancer patients undergoing chemotherapy because of its ability to restore qi/energy [4]. And then there's that magical lifting quality that astragalus root has.
According to Chinese medicine, astragalus root "raises yang energy", which means it's good for just about any type of prolapse – vaginal, uterine, rectal, hernial [5]. It even helps hemorrhoids. A common symptom that indicates that astragalus root is right for you is that dragging sensation, familiar to anyone with a prolapse. It feels like you there is something pulling you down, or that you are pulling a heavy weight along behind you. If the condition is more severe, you may also feel weary and exhausted, like you could slump into a chair and never get up.
The TCM formula famous for treating prolapse is called Bu Zhong Yi Qi Tang, and astragalus root is its chief herb. It's the formula I gave to each of the women I mentioned above, and each of them had good results with it. It can take a bit of time to have an effect, though, because strengthening takes time. It's like going to the gym. You won't have stronger muscles after just one day, but if you exercise regularly, your body will be transformed. I've been amazed by the effect that astragalus has on my own body. There's no herb that alleviates fatigue better, in my book.
You can find astragalus root in our Meta Plus tincture, and this formula relies on astragalus's ability to increase energy and stimulate your metabolism [6]. You can also find it in our Chrysanthemum tincture, where astragalus's immune-strengthening abilities are showcased [7]. Astragalus is even present in our Fem-Mate tincture, prepared for women who are peri-menopausal or menopausal. Here, it boosts energy and stops sweating.
Astragalus is a great herb to start taking in the early fall. By the time viruses start to circulate in October and November, your immune system will already be stronger and better able to fight them off. Fall is also Lung time according to the TCM calendar, and astragalus root is a premier lung strengthening herb. We've seen it heal cases of chronic asthma [8] when taken in our Chrysanthemum tincture.
Astragalus is one of those herbs that you just can't stop talking about. Its benefits are that amazing and wide-ranging. It's certainly an herb that I am never without.
Zhong Yi Za Zhi (Journal of Chinese Medicine), 1980; 1:71
Ibid, 1982; 7:52
Hei Long Jiang Zhong Xi Yi Yao (Heilongjiang chinese Medicine and Herbology), 1982; 1:39
Yun Nan Zhong Yi Za Zhi (Yunan Journal of Chinese Medicine), 1980; 2:28; Zhong Gao Zhong Xi Yi Jie He Za Zhi (Chinese Journal of Integrative Chinese and Western Medicine), 1995 Aug; 15(8):462-4
Shan Xi Yi Yao Za Zhi (Shanxi Journal of Medicine and Herbology) 1978; 2:31, Shan Dong Zhong Yi Za Zhi (Shandong Journal of Chinese Medicine), 1983; 2:43
Zhong Yao Yao Li Yu Lin Chuang (Pharmacology and Clinical Applications of Chinese Herbs), 1985:193
Jiang Su Zhong Yi (Jiangsu Chinese Medicine), 1988, 9:32
Zhong Hua Er Ke Za Zhi (Chinese Journal of Pediatrics), 1978; 2:87
About the author: Rebecca Wong has an honours degree in English Literature from the University of Waterloo, and has been working in the herbal business since 2000. She has received her training in acupuncture and herbalism from respected authorities Paul Des Rosiers and Vu Le at the Ontario College of Traditional Chinese Medicine in Toronto, and Michael Tierra at the East West Herb School in California.