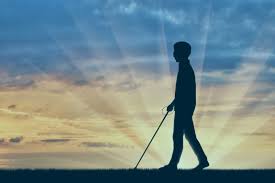 Shock. Devastation. "It's been a nightmare," the woman said.
So says the mother of a 17 year old boy from Bristol, England, who has now become blind. The boy's blindness occurred, not due to accident or trauma, but because of his diet. A diet of mostly white flour products, and junk food. And it is this fact that has caused his sudden blindness to be so shocking.
In developing countries, where children often don't receive the required amount of nutrients for optimum growth, blindness is unhappily much more common, and hence, less surprising. But in the rich, developed world, it is virtually unheard of, and this is why this unique case of blindness has made headlines.
As most parents know, there is a period in the life of virtually every child, where they suddenly become extremely picky eaters. Babies that once happily ate pureed carrots and finely chopped, steamed beans suddenly refuse to eat anything but Premium Plus crackers and the occasional hot dog. It can throw parents into a panic. Mealtimes become battlegrounds. Many tears are shed, on both sides. In most cases, the crisis dissipates as the child grows and re-learns his appreciation for various fruits and vegetables, and finally, the parents can begin to relax again.
But in this particular case, the boy never outgrew his aversion to the nutrient-dense foods presented to him. His diet remained one primarily of starches: French fries, potato chips, the occasional slice of white bread. For protein, he ate ham and sometimes sausages. Only rarely did he eat any fruits or vegetables.
Now, before you start to blame her, I want to assure you that his mother tried her best to help him. She made attempts to expand his diet, but since he suffers from a relatively unknown eating disorder called ARFID, or "avoidant/restrictive food intake disorder", he continually struggled to eat foods with certain textures. Other ARFID sufferers may eventually start to avoid food entirely, preferring not to eat at all.
If the only eating disorders you've previously heard of are anorexia nervosa, or bulimia, it is important to know that ARFID is different. With ARFID, there isn't any concern about body size or shape behind the lack of interest in food. In fact, many ARFID sufferers know that their eating disorder causes them to be too thin, and they try to cover this up by wearing multiple layers of clothing. For reasons that will vary, there is just no desire to eat, or there is concern about the eating process in general. Most cases of ARFID are among children who also struggle with other learning disorders, like autism, ADHD, or excessive anxiety, which is why counselling is so important.
In the case of this particular boy, it was recommended that he receive counselling to help with the psychological component of the illness. They also made sure to supplement with various vitamins and minerals, and gave him occasional B12 injections to make up for the lack of variety in his diet. Although they tried their best, repeated visits to the doctor for fatigue and anemia meant they knew they were failing to improve their son's situation, but even so, the blindness still came as a shock.
It turns out that the optic nerves that carry sensory information to the eyes can become irreversably damaged in children if they are not supplied with important nutrients like folic acid and B vitamins. Without these nutrients, toxic metabolic by-products can build up within the nerve cells, eventually killing them. If the right nutrients are provided in time, the nerves can be repaired. But in this boy's case, there was already too much damage done. In addition to clinical blindness, he also suffers from some hearing loss, as well as reduced bone density. He was found to be deficient in vitamin B12, along with low levels of copper, selenium and vitamin D.
I am not writing about this boy to encourage shaming, either of the boy, or his parents. But his case does serve as a reminder of how important a balanced diet is for optimum health. Living in the calorie-rich Western world, we rarely have to worry about a lack of access to food. But it is important to remember that quality is more important than quantity. The foods we are exposed to, and which we then tend to eat, are calorie dense, yet nutrient deficient. To offset this, try to incorporate a wider variety of foods into your diet, including whole grains rather than white flour products. Especially try to eat an increased amount of fruits and vegetables, ideally filling half of your plate at each meal.
Let the sad plight of this boy be a reminder that high blood pressure, high cholesterol and high blood sugar aren't the only health problems we are trying to avoid. Our sight, our hearing, and the strength of our bones need protection too.
About the author: Rebecca Wong has an honours degree in English Literature from the University of Waterloo, and has been working in the herbal business since 2000. She has received her training in acupuncture and herbalism from respected authorities Paul Des Rosiers and Vu Le at the Ontario College of Traditional Chinese Medicine in Toronto, and Michael Tierra at the East West Herb School in California.