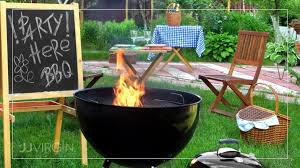 The sun is out, the weather is warm, and the kids are running around happily in the backyard. The official return of summer is fast approaching, and everyone is in the mood to celebrate. What better way to do this than with a backyard barbecue?
Unquestionably, the scent of grilled meat satisfies some deep, unconscious biological need. That's why humans have been doing it for thousands of years. It tastes good, it smells good, it pleases all the senses. Unfortunately, it's really not very good for us, and there are now more concerns about this favoured warm-weather past-time.
Not again, you might be thinking. Yes, yes, we know, we know! We already know that the chemicals that form in grilled meat, particularly red meat, are linked to cancer in animal studies. We know this, and we're going to keep doing it anyway! We're not going to stop! It's just too enjoyable.
Well, yes, all that is true, and I am truly sorry to have to rain on your little barbecue party, but I'm afraid there's more.
New studies are now showing that people who eat grilled meat also have an elevated risk of fatty liver, insulin resistance, and high blood pressure. After carefully cataloguing the dietary habits of more than 100,000 people through several, different, on-going studies, it was found that people who ate the most barbecued meat had a 17% higher risk of high blood pressure, compared with those who ate less barbecued meat, or none at all. It's the high cooking temperature which seems to cause the problem, with the dry, charred meat causing chemicals to form which then create oxidative stress, inflammation, fatty liver, insulin resistance and finally, high blood pressure.
Previous studies on barbecued meat have focused on the potential association with cancer, which is why this new information is more disturbing, because researchers weren't looking for it. As Dr. Linda Van Horn, registered dietician and spokesperson for the American Heart Association says, « these studies begin to suggest that grilling at high temperatures has some sort of inflammatory response in the blood system that basically then contributes to an increased risk of all kinds of chronic disease, not only cancer ».
Does this mean we should never eat barbecued meat again? Well, if you are truly concerned about your health, that wouldn't be a bad idea. But since most people really enjoy the taste of barbecued food and consider it one of the great pleasures of life, this doesn't seem practical. That being said, if you are currently struggling with high blood pressure, fatty liver, and/or insulin resistance, you may want to take special care to avoid barbecued meat, for the most part. The rest of us can still indulge, as long as we keep the frequency low. Following these rules will also help to keep your risk as low as possible :
1. Remove any old char from your grill before you start cooking.
2. Use lean meat when you barbecue to avoid excessive flames and charring.
3. Marinate your meat before grilling. This prevents meat from becoming too dry and over-cooked.
4. Reduce the temperature of your grill and avoid lengthy cooking times.
5. If your meat does become charred, cut off the burnt parts and avoid eating them.
These are essentially the same steps that have been recommended to us in the past as a way to help prevent cancer when eating grilled meat. So, nothing new really. It's just that there's now even more reason to avoid over-indulging during the barbecue season.
This summer, please enjoy the sun, take pleasure in your friends and their conversation, laugh like crazy, watch the stars come out and be grateful for all that's been given to you. But for the sake of your health, please keep your consumption of grilled meat to a minimum.
About the author: Rebecca Wong has an honours degree in English Literature from the University of Waterloo, and has been working in the herbal business since 2000. She has received her training in acupuncture and herbalism from respected authorities Paul Des Rosiers and Vu Le at the Ontario College of Traditional Chinese Medicine in Toronto, and Michael Tierra at the East West Herb School in California.