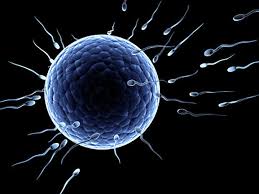 I remember reading Margaret Atwood's book A Handmaid's Tale back in high school, and for whatever reason, it just didn't resonate with me.  Maybe it was because our class had recently read other dystopian books like 1984 and Brave New World and I was tired of looking at the future through such a negative lens.  Or, maybe I just didn't buy the premise that fertility and childbirth could one day become so precious and rare.   Whatever the reason, the plot of the book failed to move me.
Fast forward to the present, and Margaret Atwood's vision has begun to seem prescient.  Just like in A Handmaid's Tale, the western world is currently experiencing a decreased fertility rate.  And just like in A Handmaid's Tale, this is largely blamed on women.  While it is true that many women are now delaying motherhood until their career is more established, and this makes it more difficult for them to successfully conceive, studies show that 40% of the time, the fertility problem lies with the male, not the female.
The news for men has recently gotten even worse.  A recent meta-analysis published last year in the journal Human Reproduction Update found that total sperm count among men is declining.  In the last 40 years, the sperm count in North America, Europe, and Australia has more than halved, and the rate of decline appears to be increasing.  Sperm counts among men in South America, Africa and Asia are more stable, but since less data has been collected in these countries, this cannot be confirmed with confidence.
Genetics alone cannot explain such a rapid drop in sperm production.  And because the decline is starker in western countries, it suggests a link to our more toxic, chemical-laden environment.  Pesticide use, hormone-disrupting chemicals, poor diet, stress, smoking, and obesity may all be involved.  Until further studies are done, it is difficult to determine which may be the most likely culprit.
In the meantime, there are steps we can all take to minimize these effects.  To prevent potential hormonal disruption from pesticides and plastics, both men and women should be sure to wash their fruits and vegetables in a 1:1 mixture of vinegar and water before eating.  The acetic acid in vinegar helps to dissolve hormone-disrupting pesticides from the skin or fruits and vegetables better than soap and water.  Also, food should never be cooked or heated in plastic containers.  To avoid contamination with phthalates and other chemicals, always microwave food in glass bowls instead.
Ideally, we would also stop smoking, and follow a diet rich in vegetables and whole grains.  Regular exercise will not only help to keep weight down, but will also better regulate hormone production.   Additionally, some regular liver and gallbladder cleansing would also be performed.  Because the liver is the organ which breaks down and removes excess hormones from the body, by keeping it in good health, we can prevent hormone from becoming dysregulated and imbalanced, which is the most common cause of infertility.   The men we have treated have seen their sperm count increase when they do regular liver and gallbladder cleansing.
According to Hagai Levine, public health researcher at The Hebrew University in Jerusalem, "sperm count is the canary in the coal mine".   When men see their sperm count decline, it doesn't just mean they have reduced fertility.  It means that men, in general, are not doing well.  A 2015 study published in the journal  Fertility and Sterility not only found that infertile men have a higher risk of developing diabetes and heart disease, they also had a higher rate of mortality, in general.  As a species, our fertility problems may not yet be as great as those in A Handmaid's Tale, but they are very troubling.  If we want to live in a cleaner, safer world, we may one day have to make some big changes.
About the author: Rebecca Wong has been working in the herbal business since 2000. She has received her training in acupuncture and herbalism from respected authorities Paul Des Rosiers and Vu Le at the Ontario College of Traditional Chinese Medicine in Toronto, and Michael Tierra at the East West Herb School in California.