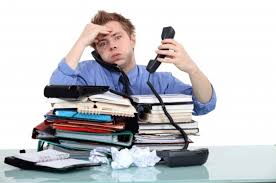 How many hours did you work last week?  Was it more than 40?  Please don't tell me it was more than 60!   The number of hours you work each week has big implications for your health, a new study shows, and this is particularly true for women.
This new research was published in the journal Social Science and Medicine, and concludes that the average person should work no more than 39 hours a week to prevent a substantial decline in mental health.  For women, the magic number is just 34 hours per week.  Once those limits have been passed, mental health starts to suffer and people are less able to eat well, and take proper care of themselves and those they love.
A 40 hour work-week causes more distress to women than men because they perform more unpaid childcare and household chore responsibilities than men, which adds to their daily schedule.  In addition, women tend to have lower paid jobs, with less autonomy over workplace decisions, which can also increase workplace stress.
The research was conducted in Australia, where data was collected from 8,000 adults between the ages of 24 to 64.  Generally, it was found that once people began to work more than 45 hours per week, the risk of cardiovascular disease, angina, coronary heart disease, high blood pressure, stroke and heart attack increased.
While it is true that some work is good for our physical and mental health, there is definitely a threshold whereby people begin to suffer, and that seems to occur when people regularly work more than 12 hours per day or 60 hours per week.
This new information should serve as a warning for people in North America, whose amount of leisure time has decreased from the mid-twentieth century until now.   According to a 2014 Gallup poll, the average full-time worker in the US now puts in about 47 hours per week, and 40% of workers work at least 50 hours per week.
True health is more than the absence of illness.  It also means having the space and time to enjoy what we have, rather than constantly reaching for more.  For many, life is a daily struggle just to make ends meet.  Somehow, we have to find a way to re-structure society so that we can all live comfortably, without stretching ourselves past our natural limits.
About the author: Rebecca Wong has an honours degree in English Literature from the University of Waterloo, and has been working in the herbal business since 2000. She has received her training in acupuncture and herbalism from respected authorities Paul Des Rosiers and Vu Le at the Ontario College of Traditional Chinese Medicine in Toronto, and Michael Tierra at the East West Herb School in California.