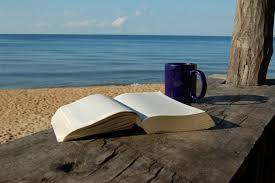 The Harry Potter series of books were just being written when my boys were young.  Every night, we'd read a chapter together, taking turns reading alternate pages aloud.  Sometimes, when the action got very intense and exciting, we'd extend our reading session past their usual bedtime, as none of us expected to sleep well until we knew what happened next.
Although it began as a way to advance their reading level at school, this night-time reading wasn't just academic.  It was a time for us to relax together and to bond.  It allowed them to ask me questions about life, and for me to see how they viewed the world.  And then together, we'd look forward to the time when the next book in the series arrived, counting down the days until our journey through the Potter world could continue.
This is how reading brings people together.  Although a seemingly solitary activity,  it provides a bridge between the reader and the author through the simple act of reading their thoughts and feelings.  As we explore and digest another's world, we become more empathetic and less judgemental.  And for those who read a book together, like the members of a book club, or my sons and I, it helps us to learn from one another more deeply than we would in any casual conversation.
Non-fiction self-help books may abound on store shelves, but we may learn important life lessons more viscerally from non-fiction books.  My first favourite book was "Charlotte's Web" by E.B. White.  I read it over and over again, until my copy became dog-eared, wrinkled and torn.   The internal lives of the animals fascinated me, as I lived on a farm myself.  Through their lives, I learned the importance of kindness among all living things, and the value of friendship and loyalty.  I still cry when Charlotte dies.
Since then, many other books have also provided me with valuable wisdom as I journey through life.  From the book "A Visit from the Goon Squad" by Jennifer Egan, I learned that life is never perfect.  The book jumps back and forth through time, allowing you to see people before they achieved their dreams, and afterwards as well.  Even when they got exactly what they wanted, it still feels bittersweet.  Through them, I learned then that happiness is elusive, even for the most successful among us.
From the book "Middlemarch" by George Eliot, I watched as complicated people from the Victorian age navigated lives that were easily as difficult as our own.  Through them, I learned that all caricatures are false.  No one is absolutely good or absolutely evil; we all have reasons for the things we do, and the choices we make.  I was surprised at my ability to empathize with all  of the characters, even the most flawed.  In so doing, I learned to love myself despite my own shortcomings.
Right now, with technology pulling us farther and farther apart, we need to read more than ever.  Always distracted with our phones and laptops, we've become more isolated, jealous and depressed.  This summer, I hope you find some time to unplug, slow down, savor and ponder.   And when you do, I hope your mind gets expanded and recharged through the reading of a book.
About the author: Rebecca Wong has an honours degree in English Literature from the University of Waterloo, and has been working in the herbal business since 2000. She has received her training in acupuncture and herbalism from respected authorities Paul Des Rosiers and Vu Le at the Ontario College of Traditional Chinese Medicine in Toronto, and Michael Tierra at the East West Herb School in California.