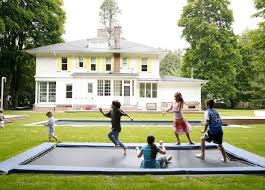 In 2005, our neighbours bought one of those big, backyard trampolines.  It was used quite heavily by  their teen-aged kids, and as the fence between our two yards was low, we could often see them soaring high into the air.  My kids were mesmerized by their athletic back flips.
Although we never bought one ourselves, trampolines soared in popularity that year, with sales tripling in 2005.  According to the trampoline industry, more than one million backyard trampolines are now sold in the US every year.  It didn't take savvy entrepreneurs long to catch on to the trend; trampoline parks now proliferate in all major city centres, with 5 or 6 parks opening every month in the US.  But are they a good idea?
Despite the much-needed increase in physical activity they provide, injuries at trampoline parks, and at homes with backyard trampolines, are soaring.  According to estimates from the National Electronic Surveillance System, trampoline injuries have  lead to nearly 100,000 emergency room visits a year since 2012.  The most common injuries at trampoline parks are leg fractures, which account for 59% of emergency room visits.  Home trampolines tend to cause more upper body injuries, such as elbow and forearm fractures.
But trampoline injuries can be far more devastating than that.  Marc Rabinoff, at the Metropolitan State College of Denver, Colo., calls trampolines "quad machines" because you can become a quadriplegic in four seconds or less.   Dr. Gary Smith, of the American Academy of Pediatrics, says "trampolines were originally developed as a device for use by acrobats, gymnasts, or fighter pilots – they were never intended to be used as a backyard toy".  There are now calls from prominent pediatricians to actively discourage recreational trampoline use.
Are these doctors going too far?  Are these recommendations just another sign that we're bubble-wrapping our children far too tightly?  Aren't a certain amount of bumps, scrapes and bruises de rigeur for any happy childhood?
Well, trampoline experts say you can considerably reduce the risk of injury by preventing children ages 6 and under from using the trampoline at all, by ensuring protective nets are in place to prevent serious falls, by allowing only one child on the trampoline at a time, and by having an adult always on hand to supervise.  But despite all these precautions some serious injuries still take place.
Much of the reason for the increase in injury is that many parents are not fully aware of how dangerous trampolines can be.  Serious, even crippling injuries can still take place, even if padding, mats and nets are safely in place.   We all want our kids to be active and have fun, but perhaps we should begin to view trampolines more like motorized ATV vehicles, which have also been known to cause serious injuries in children if safety precautions aren't followed.
About the author: Rebecca Wong has been working in the herbal business since 2000. She has received her training in acupuncture and herbalism from respected authorities Paul Des Rosiers and Vu Le at the Ontario College of Traditional Chinese Medicine in Toronto, and Michael Tierra at the East West Herb School in California.