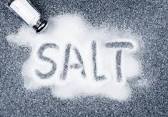 Do you have a sweet tooth?  Or, perhaps you prefer salty snacks?  Indulging in either craving can cause your waistline to expand, and damage your cardiovascular health in the long term.  However, a new study focusing on the effects of excess salt consumption in mice has found that salt is particularly damaging to mental functioning, irregardless of whether your blood pressure rises.
In the study, mice were given 8-16 times more salt than normal for several months, comparable to what humans consume when they eat a high-salt diet.  MRIs later showed reduced blood flow to areas of the brain involved in learning and memory.  The mice also performed significantly worse on maze and recognition tests, and became unable to build nests, something normal mice do every day.
But here's the really interesting part:  contrary to what the researchers expected, the decreased flow of blood to the brain was not caused by salt-induced high blood pressure, but by changes to the gut.   It appears that the increased salt consumption caused the production of a particular kind of white blood cell to escalate (T- helper lymphocyte TH17).  This resulted in dysregulation of the inflammatory response, which increased inflammation – already known to damage delicate neurons and deprive them of oxygen.  Meanwhile, nitric oxide production within blood vessels also decreased.  Nitric oxide is a gas that causes blood vessels to relax and  open, thereby increasing the circulation of blood throughout the body, including to the brain.
Reassuringly, once the excess salt was taken away from the mice and their diet returned to normal, their brain functioning improved within four weeks.   This implies that if we humans were to also reduce our salt intake, we might see a similar increase in cognitive function, and a reduced chance of developing dementia.  It's just another reason to stay away from salt!
Intriguingly, this research also points towards another avenue for dementia research:  gut health.   It may be that the root of cognitive decline isn't in our cardiovascular system, as has previously been thought, but in our digestive system instead.  All the more reason to keep improving your diet, reducing salt intake, and while you're at it, keep an eye on your liver health.  Since the liver is the most important organ in the digestive system, keeping your liver in tip-top shape will ensure that  your digestive health is as optimal as possible.
About the author: Rebecca Wong has a BA from the University of Waterloo and has been working in the herbal business since 2000. She studied at the Ontario College of Traditional Chinese Medicine under respected authorities Paul Des Rosiers and Vu Le, and graduated from the East West School of Planetary Herbology under Michael Tierra. She received training as a yoga teacher at The Branches in Kitchener/Waterloo, and is currently studying to be a Therapeutic Yoga Teacher, specializing in yoga for depression, anxiety and burnout.