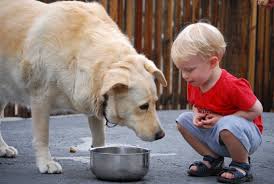 Do you have an only child?  If so, you may be concerned that your child's emotional development may be negatively affected by the lack of a sibling.   After all, friends are important, but there's something comforting about having a brother or a sister, even if you don't get along very well.  Their very existence makes you feel less alone in the world.
Enter the family dog.  A new study done last year at the University of Cambridge suggests that household pets have a significant effect on childhood development, positively influencing their social skills and emotional well-being.  For children who don't have siblings, or who are shy or emotionally sensitive, having a family pet may even improve psychological health later in life.
In this most recent study, 77 pre-adolescent children in the UK reported having a better relationship with their pet than with their brother or sister.  They were more likely to confide in their pets, got greater satisfaction from their furry friends, and also had less conflict with them.  Dogs, in particular, were associated with higher incidence of companionship and satisfaction than cats, rabbits, guinea pigs, hamsters, or fish, but it's probable that any family pet can have a positive influence.
Given the emotionally fraught nature of most sibling relationships, having a pet may provide stress relief and added comfort when arguments inevitably erupt.  For those who don't have a sibling, a pet can help to fill the void, and even create a more positive, supportive relationship than any sibling ever could.  Whatever the case, evidence continues to accumulate that inviting a pet into your home has both physical and psychological benefits, particularly for children.
About the author: Rebecca Wong has an honours degree in English Literature from the University of Waterloo, and has been working in the herbal business since 2000. She has received her training in acupuncture and herbalism from respected authorities Paul Des Rosiers and Vu Le at the Ontario College of Traditional Chinese Medicine in Toronto, and Michael Tierra at the East West Herb School in California.