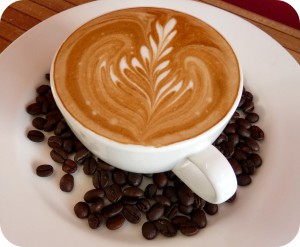 Recent studies have shown that coffee may reduce cancer risk, prevent neural degeneration in the brain, and reduce the risk of cardiovascular disease and strokes.  Although coffee had previously been thought to raise the risk of cardiovascular disease, recent studies have shown that women who drink one to three cups of coffee daily have a 24% reduced risk of heart disease, and a 19% reduced risk of stroke.  Maybe coffee isn't so bad for us after all!
Excerpt from the article:  premier-pharmacy.com "Coffee is a very complex mixture of various chemicals.  Researchers are still trying to track down exactly what it is that makes coffee so mysteriously beneficial, but it's antioxidant components may be part of its protective effects against cancer".
Also:  "Americans get more of their antioxidants from coffee than any other dietary source," said Joe Vinson, lead author of a study on antioxidants conducted by the University of Scranton, in Pennsylvania. "Nothing else comes close."
http://www.livescience.com/8335-coffee-mysterious-benefits-mount.html
About the author: Rebecca Wong has an honours degree in English Literature from the University of Waterloo, and has been working in the herbal business since 2000. She has received her training in acupuncture and herbalism from respected authorities Paul Des Rosiers and Vu Le at the Ontario College of Traditional Chinese Medicine in Toronto, and Michael Tierra at the East West Herb School in California.