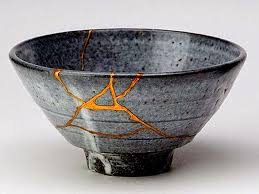 "Kitsungi" is a form of Japanese art that I've always found fascinating.   Really, it's more a method of repair than a formal art as it requires a broken ceramic object, such as a bowl or plate, that is then mended with a special laquer dusted with gold.   What makes this art form so special, is that there is absolutely no attempt made to camouflage the broken places.  In fact, they are deliberately emphasized.
This practice of accentuating damage and imperfection is related to the Japanese philosophy of "wabi-sabi", which encourages us to see beauty in brokenness.   A similar sentiment is definitely operating at the newly opened Museum of Failure in Sweden, with a traveling exhibit currently in Los Angeles.   The idea behind this odd museum came from Dr. Samuel West, a Swedish psychologist  who noticed, and became sickened, by the modern habit of promoting success, while ignoring the importance of failure.
To his mind, it showed a lack of understanding of how crucial failure is for the creative process.  Successful innovators, like Steve Jobs, would never have achieved the wild success for which they eventually became known, if they hadn't persevered through plenty of early failures.  Dr. West hopes that the Museum of Failure will make people comfortable with the idea of failure, and no longer fear it.   The fact is, if you want to create anything, you will fail, and fail often.  This doesn't mean you can't eventually succeed.
Within the Museum of Failure are nearly 100  items, many well-known, all of which went wrong in one way or another.   Select items include:  Google glasses, Sony's Betamax VCR, New Coke, the "Bic for Her" pen,  and a Blockbuster video rental case.
Says Dr. West:  "It's liberating to see these brand-name mega-corporations — who are perfect and never do anything wrong — and see them [expletive] up.  You think, when I try new things it's okay for me to fail.  It's okay, it's inevitable. There's something beautiful about that."  The Museum of Failure even has a "confession wall" where you can write your own failure on a Post-It note and share it with the world.
This spring, as the trees start to bud, and the grass begins to grow once again, maybe it's time to revisit an old dream – one that may have failed before, but with new knowledge and effort, may yet be brought to life.   Take inspiration from the art of kitsungi, or from the many items in the Museum of Failure, and see the beauty in any attempt, even if it's botched or bungled.  As Leonard Cohen once sang, in a 1992 song  called Anthem:
"Forget your perfect offering.
There is a crack, a crack, in everything.
That's how the light gets in".
So, give it a shot.  Let us see your imperfections, unique and precious as they are.  We also won't miss that special glow you have, that shines through all the broken places from within.
About the author: Rebecca Wong has an honours degree in English Literature from the University of Waterloo, and has been working in the herbal business since 2000. She has received her training in acupuncture and herbalism from respected authorities Paul Des Rosiers and Vu Le at the Ontario College of Traditional Chinese Medicine in Toronto, and Michael Tierra at the East West Herb School in California.