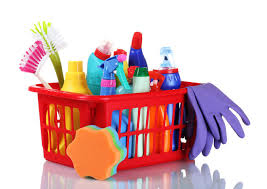 A few weeks ago, I cited a study from the AARP that equated social isolation and feelings of loneliness with the negative health effects of smoking 15 cigarettes per day.  Now, researchers are sounding a similar warning against the regular use of household cleaning products.
In a study performed at Norway's University of Bergen, 6,000 people were tracked over a period of two decades.  Those who had the most exposure to cleaning products had a marked decline in lung capacity, equivalent to what you might see in someone who smoked 20 cigarettes per day over that same time period.  Increased rates of asthma were also noted.
Researchers suspect that inhaling small particles of cleaning products on a regular basis might damage the mucus membranes lining lung airways, and thereby accelerate the decline in lung strength.  Although it is not yet certain which particular chemicals in household cleaning products might be contributing to this decline, bleach and ammonia are strong culprits.
To help protect your lungs from this damage, you can consider using baking soda when cleaning bathtubs and sinks, and a vinegar/water mixture when cleaning floors and windows.  Essential oils can also be mixed into the water/vinegar solution to make it smell prettier.   Citrus oils smell fresh, while lavender is relaxing.   You could even make your  life  simpler still by using plain water along with a microfibre cloth, since most household jobs don't require strong chemicals.
Says Øistein Svanes, the lead author of the study, "When you think of inhaling small particles from cleaning agents that are meant for cleaning the floor and not your lungs, maybe [these results are] not so surprising".
About the author: Rebecca Wong has an honours degree in English Literature from the University of Waterloo, and has been working in the herbal business since 2000. She has received her training in acupuncture and herbalism from respected authorities Paul Des Rosiers and Vu Le at the Ontario College of Traditional Chinese Medicine in Toronto, and Michael Tierra at the East West Herb School in California.