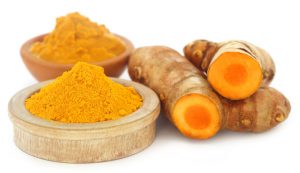 Curcuminoids have been making news lately.  This compound from the curcuma plant has been found to have potent anti-inflammatory and anti-oxidant effects, and in recent double-blind studies has worked as well as fluoxedine (Prozac) for the treatment of depression.
Curcuminoids are most prevalent in the popular Indian spice, turmeric, which gives curry dishes that distinctive orange colour.  They are also found in the tuber of the curcuma plant, known in Chinese medicine as "yu jin", which means "gold for depression".  This descriptive name is an indication of how valued the curcuma plant has always been for the treatment of depression in China.
From recent research, it appears that curcuma's ability to treat depression lies in its anti-inflammatory properties, which match the effectiveness of some anti-inflammatory drugs – but without the side effects.  Almost every chronic disease has low level inflammation at its root, so by taming this inflammation, curcuma could be helpful in the treatment of other inflammatory conditions, such as heart disease, cancer, metabolic syndrome, Alzheimer's disease, arthritis, and various other degenerative conditions.
Because of its strong anti-oxidant activity, curcuma is frequently touted as an anti-aging herb.  Recent research has also proven curcuma's effectiveness as an anti-cancer agent.  In various studies performed over the last 50 years, curcuma has demonstrated an ability to suppress intial tumor formation while also preventing metastasis.  In one study, 44 men who took curcumin daily for 30 days were able to reduce the size and number of lesions in their colon by 40%.
Curcumin has also demonstrated neuro-protective properties in studies with aging rats, meaning that it can stimulate the growth of new neurons in the brain while also protecting existing neurons from degenerating.   This research suggests that curcumin may be helpful for the treatment of age-related memory problems, and enhanced cognition for humans of all ages.
Although turmeric is the most famous part of the curcuma plant, it is known to be a "warming" spice in Chinese medicine.  This tendency to produce heat could aggravate liver congestion, a condition known to be associated with "excess heat".  For this reason, we used the tuber of the curcuma plant in our Curcuma tincture.  The tuber, known as "yu jin",  has similar properties to turmeric but is cooling instead of warming, and therefore less likely to aggravate a liver condition.  Customers of ours have successfully used our Curcuma tincture to treat their depressive symptoms, while also healing inflammatory conditions and problems related to poor blood circulation, such as varicose veins and frequent bruising.
In addition to using our Curcuma tincture, you can also reduce inflammation in your body by following a healthy diet free of deep fried, fatty foods, spicy foods, and sugars.  You should also try to avoid eating prepared foods filled with preservatives and chemical colourings.  The best diet is one that includes plenty of lightly cooked vegetables, whole grains, with small amounts of protein.
For the treatment of depression, daily exercise is also very helpful, as it draws stagnant blood out of the liver and then circulates it throughout your body.  This not only improves liver functioning, but helps to provide better nourishment to all the cells of your body, including brain cells.  One of our customers found that just by doing daily deep breathing and stretching exercises, she was able to considerably reduce her feelings of depression.
About the author: Rebecca Wong has an honours degree in English Literature from the University of Waterloo, and has been working in the herbal business since 2000. She has received her training in acupuncture and herbalism from respected authorities Paul Des Rosiers and Vu Le at the Ontario College of Traditional Chinese Medicine in Toronto, and Michael Tierra at the East West Herb School in California.