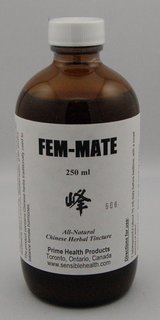 Product Details
Fem-Mate
One 250 mL (8½ fl oz) bottle

Used to promote progesterone production, which can help balance female hormones. Balancing of female hormones can alleviate PMS and menopause-related hot flashes, and other womens' health issues.
Ingredients: Vitex, Self Heal, Fu-ling, Astragalus, Curcuma, Atractylodes, Scutellaria
Area of Effect: Liver, Speen, Lungs, Heart, Urinary Bladder
Directions: 1 tablespoon (about 15 mL) once daily on empty stomach before meal or bedtime.
Fem-Mate helps to promote progesterone production and balance female hormones. As a result, it tends to alleviate or eliminate hot flashes in menopause. In some cases, Fem-Mate in conjunction with Chinese Bitters appears to be the only product that alleviate hot flashes after years of using hormone replacement therapy. It also alleviates PMS symptoms by stimulating progesterone production.
Notes:
Long-term use of Fem-Mate for PMS may reduce its efficiency probably because the increased production of progesterones may lead eventually to increased estrogen production.