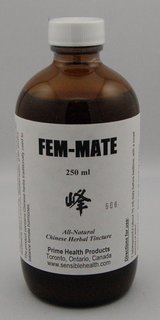 Product Details
Fem-Mate
One 250 mL (8½ fl oz) bottle

A stimulating and strengthening formula, made especially for women who are experiencing or approaching menopause.
Ingredients:
Vitex (Man Jing Zi)
Astragulas (Huang Qi)
Poria (Fu Ling)
Curcuma (Yu Jin)
Self Heal (Xia Ku Cao)
Scutellaria (Huang Qin)
Atractylodes (Bai Zhu)
Bupleurum (Chai Hu)
Directions: 1 tablespoon (about 15 mL) once daily on empty stomach before meal or bedtime.
Note: these statements have not been evaluated by the Food and Drug Administration (FDA).
Fem-Mate contains numerous Chinese herbs which are believed to "clear heat", "tonify chi", and perform other functions to help women experiencing or approaching menopause to feel more healthy and energetic.
More information
Here are some useful websites for learning more about traditional uses of these and other herbs (note that these are third-party websites, and we cannot speak for their accuracy).